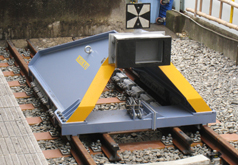 RAWIE® has been providing railway safety technologies more than 100 years. RAWIE® Friction Buffer Stops have been authorised by German Railways (DB) since 1959 and up to present they are used in 41 countries in the world and distributed by 21 agencies. RAWIE® products make an acknowledged contribution to the safety of rail traffic.
[Reference]
Austrian Federal Railway(ÖBB)/ Belgian State Railway/ Network Rail (ex-BRB)/ Channel Tunnel Project/ Danish State Railway (DSB)/ German Rail (DBAG)/ Iraqi State Railway/ Irish Rail/ Israel Railways/ KTM Malaysia/ Luxembourg State Railway (CFL)/ Netherlands Railway (NS)/ Northern Ireland Rail/ Norwegian State Railway/ Portuguese Rail/ Saudi Arabian State Railway/ South African State Railway/ Swiss Federal Railway (SBB)/ Taiwan High Speed Line Taipei Koahsiung/ West-Rail Australia/ Yugoslavian State Railway
[Advantages ]

High safety standards
Tailored design to meet requirements
Competitive price
Maintenance minimum
RAWIE® designs and manufactures individually to meet the specific needs of every track and its vehicles. High quality of RAWIE® products, performance and services offer the solutions for the high safety standards in the world. The high quality, competitive initial investment and minimum running cost lead to the outstanding cost-effectiveness.
[Impact Test in the Laboratory to Guarantee the Braking Capacity of
Friction Element]